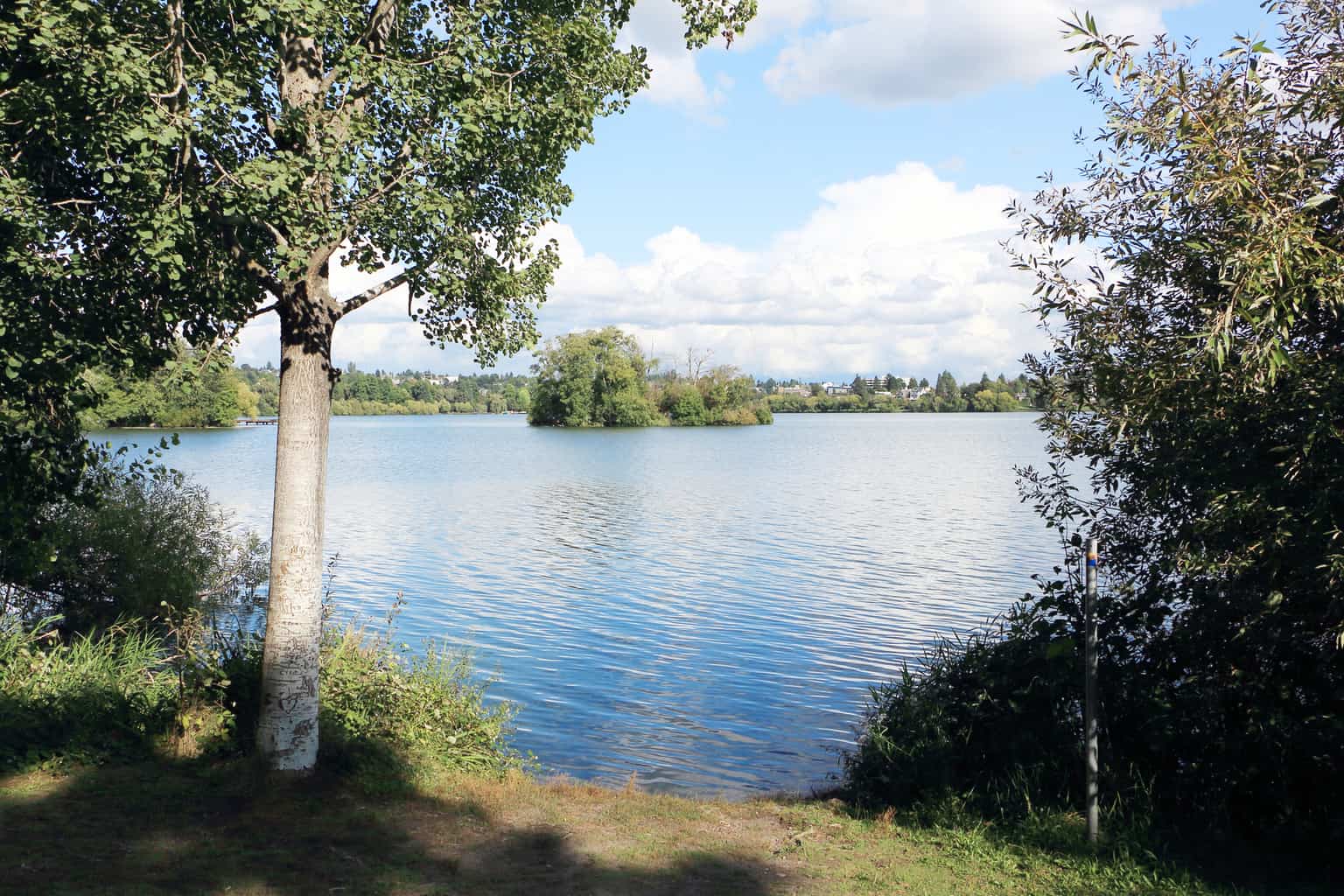 Seattle has loads of parks with plenty of summer fun, but one of my favorite activities is summer fishing at Green Lake Park. Located just off the historic Highway 99 (now known as Aurora Avenue) and north of downtown, Green Lake is one of the larger urban parks in Seattle (The Seattle Zoo is next door). For anglers, it offers a variety of opportunities for several different fish species. When planning a trip there, consider these tips for catching fish here.
Take a small tacklebox, not a huge, heavy tool-box variety one with you. Most people fishing this lake fish from the shore, and you'll need to spend a lot of time walking around to find the best spots. Stay comfortable to keep your fishing more enjoyable. Bring a small variety of lures, but if you have a favorite, be sure to bring several of them. There are quite a few snags and trees waiting to grab your lures, something I found out the hard way.
I fished Green Lake for several hours on a weekday while hanging out in Seattle with a friend. I roamed the entire shoreline, looking for likely places to fish, and had a wonderful time catch and releasing many fish. Most of them were rock bass, a species not native (but still awesome) to the area, caught on artificial lures. I also caught, surprisingly, several large sculpin, a native fish the area, resembling something out of a horror movie. I took quick pictures of them and released them safely back into the waters. Bass, trout, catfish, sunfish and a several other types of fish may be found in the waters of Green Lake.
Swimmers, boaters, bird watchers, joggers, and more frequent this park. Be especially careful not to snag an unwary bystander when casting from the shore. Even on weekdays, the sidewalk is often crowded with people enjoying the fresh summer air. Always check to make sure you have a clear place to cast, even if you did not hear anyone approaching.
Do not waste your time fishing on the docks in the middle of the day, unless you are targeting trout and they just stocked it. Most the trout (rainbows) are caught right away by locals and the lake will feel quite dead after they are dragged out. Instead, find somewhere more sheltered from the wind and sun, and focus your efforts there.
Consider renting a small boat or bringing your own (check for regulations) at Green Lake. There is a lot of water available, much of it out casting reach. There are small sailboats, paddle boats and more available for rent on the east side of the lake, along with a stand selling bait and tackle. If you do rent a sailboat, be very careful if you have not controlled one before. Even on nice days, a brisk breeze may be present on the water, keeping things interesting for inspiring sailors.
Green Lake is a great place to learn carp angling. Do some searches online for "hair rig", "bite alarm" and other cool European ways of catching this elusive, yet amazingly powerful fish, and practice them at Green Lake. A large population of carp is to be found here, and, despite the local hatred for all things carp-ish, please treat them respectfully! They are a wonderful resource for anglers to target, and while they may or may not fit one's taste, they are an excellent game fish.
Green Lake is one of the most convenient spots to fish in Seattle, Washington. Check it out for some summer fishing today!