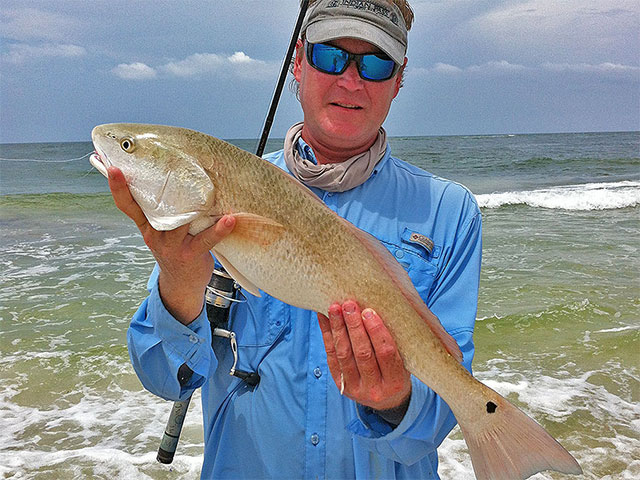 Saltwater fishing is popular around the world. Some people fish for work and others fish for fun. Most fish caught in salt water can be eaten. Others are caught for the sport, these fish include the sailfish, marlin and sharks. Basic saltwater fishing equipment includes rods and reels, line, bait and lures. Most fishermen use fishing rods made from graphite or fiberglass. These rods are between five and twelve feet long. Make sure you use fishing line that is strong. Keep a good hold on the line when your fish is hooked. Too much tension can break the line. Once the fish is hooked you can reel it in or use other devices to bring the fish up. Those consist of nets, leaders and gaffs. If the fish is large it is better to use one of these devices to pull in a large fish.
Their are several different types of hooks. The most common one used in saltwater fishing is called the Eagle Claw. The barbs sticking out of the back of this hook makes it a very good bait holder. Spark plug files found in part stores make good hook sharpeners. Once you have your pole set up you will need proper bait to fish with. The most popular bait used is live bait, preferably small fish. Here are other types of baits that are commonly used for saltwater fishing.
Grass shrimp:They are a very good bait for striped bass, redfish, bonefish and just about anything Else that feeds around beds of grass in shallow water. You hook the shrimp by carefully threading the hook through the tail.
Mullet: These good-sized bait fish move in huge schools. These fish are usually caught using a casting net.To hook the mullet run the hook through both lips or pass the hook through the top part of the body just behind the dorsal fin. They are a good bait for redfish, bass, blues, marlin and tuna.
Worms: Their are a number of different types of worms used for bait. The most common is the bloodworm. Use small pieces for catching small fish. For bigger fish like the bluefish and stripers use a whole worm. You hook these slimy critters right behind the head.
Squid: You can buy squid fresh or frozen, whole or in pieces. You basically just stick a piece of squid securely on the hook. They are a favorite for the striped bass, tuna, flounder and sea bass.
Bunker: This is a popular bait fish. They arrive in huge schools. You can catch them by fishing for them. You use weighted treble hooks to catch them. You hook them through the lips or through the top part of the body behind the fin. They are great for catching stripers, blues, weakfish, tuna and other types of fish.
When it comes to fishing the best advice is to choose fishing time based on what kind of fish you want to catch.Fish are more active during feeding periods. Snook feed during the day and sharks feed at night. So you should learn the active time for the species of fish you are fishing for.